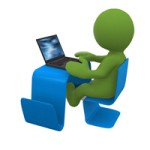 Who should use CCtoMany...
Anyone who needs a simple but reliable email newsletter system
People who don't want to or can't use a complicated web interface to build, review & schedule mailings
Who should use CCtoMany...
Anyone with recipients who have not specifically requested the mail (i.e. anything which might be considered spam by any recipient)
Those who are looking for click-thru tracking, sublist capability, online archives, integrated surveys, etc. These robust features are available with our V2 service.The focus of CCtoMany is simplicity and ease-of-use.

Check out some successful CCtoMany case studies via the links on the left.